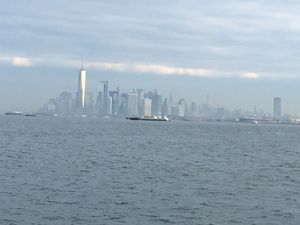 you be my baby - ray charles/what'd i say 
dance all day - bari koral family rock band/rock and roll garden 
french suite #4 in e-flat - bach/gould 
sem contencao - bebel gilberto/tanto tempo 
to bring you my love - pj harvey/to bring you my love 
goldberg var 19 - bach/gould '55 
song for sharon - joni mitchell/hejira 
this ain't no russian novel, baby - the dred scott trio/live at the rockwood music hall 
any major dude will tell you - steely dan/pretzel logic 
allegro (1884) - satie/thibaudet 
get it right the first time - billy joel/the stranger 
if you could see me now - chet baker/chet 
i've had a long association with saxophonist, jay collins. i played in his band for some years and before that he used to sub in alphabet soup. we have had a lot of laughs together. he turned me on to a lot of music i was not aware of, or was aware of but hadn't really checked out. of course, i had heard ray charles but jay really turned me on to him and many other 'blues' singers i had not heard - percy mayfield, jimmy mccracklin, lee dorsey and king curtis. 
i played bass, piano and organ on this bari koral track. it's from her 1st album. i think i have a co-producer credit on this album. eric halvorson on drums since the beginning almost 15 years ago.
a lot of gould playing bach has come up and i never comment about it. what is there to say, really? i have all of his bach recordings and i have not heard better interpretations - including the re-recorded goldberg's. it's like every version is the one. frank sinatra comes to mind. he just owned the songs he sang making it very difficult for other singers to sing more definitive versions. who could do a better version of 'my way'. well, sid vicious' version is epic - but also epically different. 
speaking of goldberg's...up came #19 of the '55 interpretations of the goldberg variations. people have asked me if i prefer this recording or the version he did in '81, the year before his death the month after his 50th birthday. i can say there are individual variations that i like better. i like the '81 version of this one, for example. it's way slower and kind of haunting as opposed to the sort of stately treatment it gets here. but there are others from '51 i like better - the aria, itself, for example. and the ripping version of the first variation i like better than the '81. and so on. 
dan tepfer recently came up with an interesting project - follow each of bach variations with one your own. pretty balsy. but when you consider that in the improvisation you are not constrained by form or the chordal movement of the originals - it is the 21st century, after all - it's not so scary. personally, i'd be more worried about fucking up the originals. first things first...you'd better play the bach variations themselves flawlessly and dan does. he made a recording of it. it's pretty cool. if you can go hear him do it....even better. 
'song for sharon' is one of those joni songs i never paid much attention to. but the shuffle knows no favorites and that's the point. i listened to this joni song like i had never heard it - this song about love and marriage and the two different paths old friends have taken. it's beautiful poetry. i went here and read it as a poem after listening to it and it really blew my mind how good it is. 
http://jonimitchell.com/music/song.cfm?id=22 
one day my ex and i were having an argument. she wanted to know WHY i did that thing that i did and didn't believe me when i told her i didn't know. i just did it. it was a mistake and i'm sorry. i'll try not to do it again. i wasn't thinking. and that's the point....i wasn't thinking. it was a dumb mistake and i should've known better. that's WHY there is no why. she couldn't accept that. i was surely up to something. i had been reading some russian lit at the time and was always annoyed when i had to flip to the front of the book where the list of characters is printed to see who this or that minor character was. if it's so complex i can't keep track of who's who, it's too complex for me. so i said to her, 
'look. this ain't no russian novel, baby. it's real simple.' 
she said, 'that's a good song title.' 

i tried to make the song sound simple by using a lot of triads. 
one thing about the steely dan track. i love the way fagan plays the electric piano part - so subtle, yet so full of information. and so funky. 
yes, the billy joel. i never liked his fake tough guy thing but dude is a songwriting hit-maker who sang his ass off. it's a little cabaret for me but i thought the stranger might be a good album to try at del posto since he sells out like 25 nights in a row at madison square garden whenever he plays there...still. so i'm checking it out again. the songs are really great pop songs. i like listening to them. the 'la-la-la' shit in this one annoys me a little, though. 
the chet is so beautiful it almost takes my breath away. this is a really great album. his first after leaving pacific jazz and going over to riverside, i believe. there aren't many records of chet just playing.